Cooking is therapy for mind and body – an art form for many. Food connects us to our roots, our community, the earth element and provides a means to witness the miracle of growth. Eating is nourishing, our natural medicine and by all means – DELICIOUS!!
Food is a huge part of my life!! I love to experiment but also know what I love to cook and eat. Having gone through some rough times with my health and digestion, pain in my gut and eventually a diagnosis of celiac disease (an autoimmune disorder where I cannot digest foods containing gluten), my experience with trying all sorts of ways of eating has given me a depth of knowledge about common (and uncommon) dietary needs (gluten free, dairy free, vegetarian, vegan, macrobiotic, blood type specific, etc).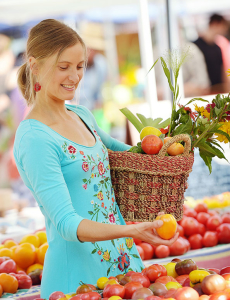 I am inspired by growing my own food but also about knowing my local farmers and purchasing my food from them. I strive to support my local food economy through these purchases, by supporting local farmers markets and events and by serving on the Board of Directors for EarthDance FARMS, a local, non-profit farm who sustainably grows food, farmers and community, one small farm at a time, through hands-on education and delicious experiences! Again, I LOVE FOOD!
I work with clients to help re-create a HEALTHY RELATIONSHIP with food, cooking and eating. I find that many times our western society has created unhealthy concepts around food and that food is seen to be our enemy. No such thing!! By getting back to eating whole foods, rich in nutrients, vitality and color, we can return to balance and health while loving our food!