Jill is a Certified Thai Bodywork Practitioner (TBP), Certified Thai Bodywork Instructor (TBI), Licensed Massage Therapist, Yoga Teacher, Personal Wellness Chef and founder of Wellness by Jill. Her "work" incorporates her passions and her lifestyle which creates a synergistic way of living in her flow. Teaching and healing others is guided from the place of a balanced heart and mind and compassion for each person on their path.
Jill recognizes each person's uniqueness but also understands that we are all connected and supported by a greater energy and that health and happiness have a direct connection to our relationship to the inner Self, inner peace and our spiritual and emotional path. She believes that everything is energy. And, by learning to listen to our inner guide, we can shift our energy state at any time, which lends to a powerful life!
Jill thrives on exploring her creative side and experiencing new things, but is also dedicated to committed, on-going education, studying and deepening her skills and knowledge. Her Thai Massage and bodywork practice is an art form, but is also clinically based, helping people out of acute and chronic pain and dysfunction. Her yoga classes and private sessions are creative and inspiring, yet taught from a place of devotion and sincere respect to various lineages. Her dietary coaching is rooted in her own healing path and desire to eat mindfully and also incorporates an understanding of plant science and nutrition.
Jill's grateful for an illness (celiac disease) that changed her life at a young age. At 20, she quickly fell ill to chronic pain and symptoms of the gut which led to malnutrition and a majorly decreased state of health in body, mind and spirit. The drive to heal herself naturally sparked a shift in her life that has no doubt led her to where she is today – radiant, healthy and deeply compassionate about the state of our health as a society. Years of exploring energy practices, dietary shifts, and natural medicine created an experiential groundwork for what Jill offers to the world today.
In 1998, Jill found yoga! In a raw state of health, she looked to the practice in hopes of decreasing physical pain and ease of mind – a way to cope with distress in a diseased state. Yoga supported her through the rough times, providing hope and ease to what felt hopeless and dis-ease. Through inner strength and yoga, Jill rebuilt her physical and mental strength, creating a foundation to start exploring her emotional and spiritual Self. Her heart burst open as she began to dedicate her life to living in devotion and studying the deeper aspects of the mystical practice, rooted in connection to Divine Energy and the heart as a doorway to the Soul. Jill lives in gratitude and counts her blessings everyday while celebrating the light that lives in her heart as the flame that will never go out.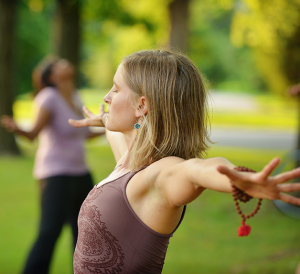 Jill originally studied Traditional Thai Massage in 2001 through SomaVeda Thai Massage at a residential retreat center, immersing herself in the history, theory, techniques and connection to the direct lineages of Thai Massage in Thailand. Soon after,  Jill became a dedicated student at Thai Bodywork School of Thai Massage in Evanston, Illinois, where she continually deepens her healing practice with a large focus on Clinical Thai Bodywork which integrates powerful Thai techniques with a deep understanding of Travell & Simons trigger point therapy, as well as aspects of osteopathy and asian medicine. She is a Certified Thai Bodywork Instructor (TBI) through Thai Bodywork School of Thai Massage and thrives on teaching this powerful, healing work to her community and the world!
Jill has studied yoga with a variety of well-known and highly respected yoga teachers for numerous years, in particular Saul David Raye. 
Jill worked in marketing and communications for Wild Oats Market, Whole Foods Market and Bon Appetit Management Company where she built programs to promote healthy eating and sustainability. She also has her Sommelier Diploma through the International Sommelier Guild and loves to drink wine! Her past Wheatless Wednesday blog with Sauce Magazine features a variety of creative gluten free recipes!
Jill has many passions, is widely connected to community and is committed to karma yoga (being of service to others). She serves as a Board Member for EarthDance FARMS, volunteer yoga teacher for homeless programs at Peter & Paul Community Services, Committee Member for Rise 'n Shine and Kirtan leader at various locations. Jill also LOVES to dance in the West African style!